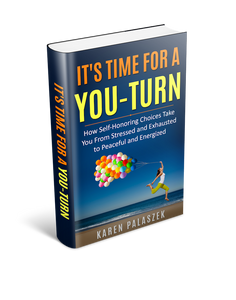 IT'S TIME FOR A YOU-TURN
Regular price $18.95 Sale
IT'S TIME FOR A YOU-TURN is your guide to coming home to the greatness of who you are through Self-honoring choices.  Learn to lovingly nourish and deeply value yourself, activating dynamic energy and grounding you in peace. 

The results? Awaken greater clarity, resilience, optimism, passion and joy.  Free your capacity, hone your focus and ability to take strategic, impactful action and generate positive outcomes that will help you create the life that matches your heart's desire.
Learn the simple yet profound skills to thrive through powerful baby steps building a mind-heart foundation in five pivotal areas.  You will be guided to create inspirational change at 5 foundational "roots," so you can stop batting at 5,000 leaves.  Live the life that's calling you! 
         THIS BOOK IS AVAILABLE ONLY IN PAPERBACK VERSION
If you'd like to learn more about Self-honoring choices, then you can watch our video on this topic here: https://youtu.be/dqy6zMhUIbw 
Our companion online program, The YOU-TURN System© is available now.  Want to learn more?  
https://quietmountainwellness.com/pages/you-turn-webinars
Ready to purchase?  Go here:
https://quietmountainwellness.com/pages/u-turn-online-courses
                              ****A NOTE ABOUT OUR PRICING****
The price of this item includes shipping charges which are woven into the price of this physical item.  Your receipt will reflect a shipping cost of zero, due to this fee being included in the item price.
Please review our return policy.
Return Policy