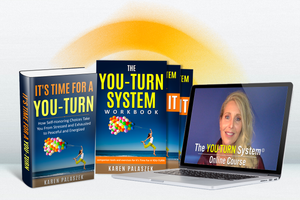 The YOU-TURN System©
Regular price $0.00 $597.00 Sale
The YOU-TURN System is here!  Click the link below to view the webinar: 
https://quietmountainwellness.com/pages/you-turn-webinars
Click the link below to View details or purchase the YOU-TURN System:
https://quietmountainwellness.com/pages/u-turn-online-courses
The online experience will guide you to uniquely and powerfully design your own strategic path of evolution by learning to use The YOU-TURN System.  We will create deep connectivity in 5 important areas to help guide you in making your own Self-honoring YOU-TURN.  This program includes an e-book version of It's Time For A YOU-TURN, along with an introductory module, five separate content modules, a special tools training module, plus a bonus wrap-up week six module. You will create your unique set of strategic and unique directives to guide your personal evolution in the directions YOU choose.  Your data will provide an invaluable wellbeing self-check, and help reconnect you with your ability to Self-honor even in stressful or overwhelming moments.  (An e-book version of IT'S TIME FOR A YOU-TURN, is included with purchase.)
THE YOU-TURN System© online course is based on the book. It's Time For A YOU-TURN, by author, Karen Palaszek.  In each module, you will receive a content presentation as well as important exercises to interface with the material to deepen your understanding and transformational results.  You will also receive bonus teachings on how to use the powerful tools of the YOU-TURN System to create and direct your own new foundations in each area.  You will increase your awareness, understanding and ability to make Self-honoring choices.  The incredible benefits of Self-honoring choices create a momentum of wholeness, peace and energy; systematically awakening your unique, abundant inner resources to thrive. Learning to use these strategies in each of the five areas will create a fresh foundation, strong and steady, to activate YOUR an incredible new life!
This online workshop is an important first step in the curriculum and the gateway to learning to live with Self-honor.  Continuing your impactful work with Self-honor will empower you to engage an ever greater capacity of vitality, courage, confidence, peace and personal satisfaction into your every day, one manageable step at a time.